Program
Curent Program
· Environment Development Program.
· Voluntary Blood Donor Supported Program.
· Save-A-Mate Program for Prevent & Awareness on
STD, HIV/AIDS.
· Awareness Program on Stop Early Marriage, Dowry,
Child & Women Trafficking.
· First Aid Education Program.
· Self Development Program.
Environment Development Program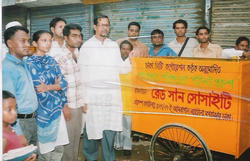 Source of Fund:
1. Membership Fee
2. Member's Voluntary Donation
Another Source of Fund:
Red Sun Society has a Fundraising Project. This Project Title Name
"Red Sun City Cleanliness Pilot Project" This project Vision for
Environmental Development & Protection. This Project has
3 (Three) Dust Carrier Van for collect Daily wasted Dirt
from about 1000 (Thousand) Family Members in Dhaka
Metropolitan area 54 & 55 No Ward. Than this Family
Members are monthly pay a Voluntary Service Fee. Collected
all of the amount are used for Salary & Developmental Program Purpose.